Optimism abounded during the post-war years of the 1950s. The focus was on the baby-booming family and being a good housewife which was the ultimate measure of success.
The United States had emerged victorious from another bitter war. Television was now in many households, and the TV culture of I Love Lucy and The Honeymooners reflected ideals of the time. Stars such as
Marilyn Monroe
,
Brigitte Bardot
, and
Elvis Presley
introduced a smoldering sex appeal into an age of conservatism.
Consumerism became a popular pastime in the 1950s, as the post-war boom provided a sense of economic optimism. New gadgets and gizmos proclaimed the future was here and liberated women from many onerous household tasks. Homemaking, it seemed, was not so bad when you had electric stoves, vacuum cleaners, refrigerators, and the like. Women could now concentrate on making a comfortable home for their families, and still have time to have a life outside of the kitchen.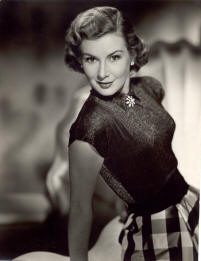 The constant rounds of barbecues, cocktail parties, and other social events all required dressing up.
Christian Dior's
'New Look' influenced fashion, but so did the conservative elegance of
Coco Chanel
. Charles Jourdan introduced a new kind of shoe style, the stiletto heel, in 1951. As time went on the goal was for the slimmest possible heel, eliminating earlier "chunky" styles. The pump was the basic shoe, but its toes might be cut, the vamps curved or cut in enticing 'V's, or the heels molded into a variety of shapes. Every color of the rainbow was used; shoes were intended to match an outfit perfectly.
Men in the 50s seemed to be seeking more security (post war). Conservatism was the new catch phrase and this is especially reflected in the menswear of the early 1950s when the trim quiet look was in vogue. This was a distinct change from the late 1940s bright colors. Now dark colors and shades of blues, browns and gray took over the scene. In 1953 the gray flannel suit began its reign. It was in 1953 that President Eisenhower refused to bow to tradition at his inauguration and chose to wear a jacket and homburg with his striped trousers instead of the usual top hat and cutaway. Looking back on his decision, it now seems merely to be the choice of a man who wanted more informality and a less rigid way of dealing with ordinary affairs. In all actuality it was merely a ripple on the surface of what was to become a full scale revolt by the young. Elvis Presley was just waiting in the wings with his suede shoes!
Teenagers were basically the focal point of this era. Films such as
'Rebel without a Cause'
were influential in how teenagers dressed. The Beatnik culture, inspired by authors such as Jack Kerouac, was also in vogue. Leather, Levi's, and Converse sneakers helped create the look. Along with the famous circle and poodle skirts, ponytails, saddle shoes, penny loafers, and colored sneakers were popular with teenaged bobby-soxers. Sandals, ballet slippers, and other casual footwear became increasingly fashionable, as pool parties and other casual outdoor activities became popular.
Life at that point seemed idyllic to many, but a storm was brewing…
1950's websites
Timeline Fashion
FashionEra.com
How to dress 50's
Grease
Costume Gallery
Rock n Roll Rockabilly Dancewear
1950's icons
Audrey Hepburn
Marilyn Monroe
Elvis Presley
.
Credit :winifredandbance.com